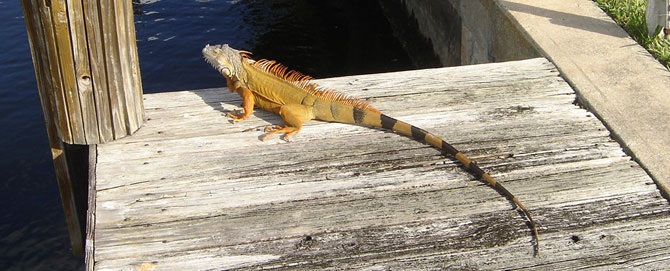 Servicing Palm Beach and Broward County
Iguana Removal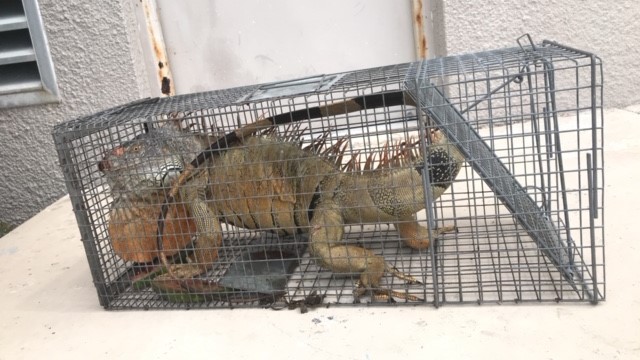 Iguanas were imported to the U.S. as pets, but through escape and illegal release, they have become pests. While Iguanas may seem to be a beautiful and exotic addition to the South Florida landscape, the unfortunate truth is, they do much more harm than good. That's why it's important to call your Boca Raton iguana removal experts from Wildlife Removal Services for problems in Broward County and Palm Beach County.
Iguanas are voracious plant eaters (except for citrus) and will destroy most of the flowering plants and fruits in the area they inhabit. Mangos, figs, bananas, orchids, and much more are all quickly consumed by feral iguanas. A hibiscus tree, for instance, can be stripped clean in one afternoon!
Avoid The Damage Done By Iguanas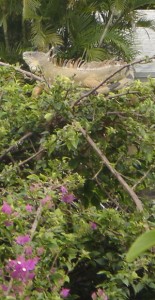 Iguanas dig tunnel networks near water, so their nests can destroy the integrity of seawalls, pool piping, and pool walls. These pests can also deliver a nasty bite, as well as a painful slap with their whip-like tail. Add to this the danger of salmonella being transmitted to humans and pets by their droppings, and it's not hard to see why it's important to call an Iguana Removal expert for an Iguana problem.
The state of Florida regulates how Iguanas can be trapped, relocated, or destroyed, so we do not recommend you try getting rid of iguanas yourself. Instead, call us. We are licensed and trained in iguana control for the Boca Raton area and beyond.
Call Wildlife Removal Services at (561) 212-9255, and our highly skilled Boca Raton iguana control technicians will safely, quickly, and humanely, put an end to your property's reptile dysfunction.