About Wildlife Removal Services, Inc.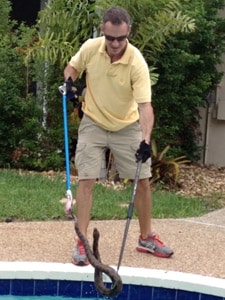 Hi, I'm Patrick Barry and I operate Wildlife Removal Services, Inc., a professional, fully licensed, bonded and insured wildlife control and critter removal service located in Boca Raton. We humanely and effectively trap and remove nuisance animals for residences and businesses across Broward County and Palm Beach County.
We operate 24 hours a day, 7 days a week, 365 days a year. You can call me in the evenings and on Sundays. I am extremely professional, arrive with a clean service truck and the best wildlife control equipment in the Boca Raton area. I pride myself on my high level of knowledge regarding Florida's wildlife, and also on the quality of my work. I guarantee that I will solve your critter removal problem. Call me any time to discuss your wildlife issue: (561)212-9255
We are critter (wildlife) specialists only. We do not handle bugs or dogs. You can contact an exterminator if you have bug issues. If you have problems with dogs you can call Broward County Animal Services at 916-359-1313. Broward County Animal Services is a free service for domestic animals only. Broward County Animal Services will not handle wild animal issues – but we will.
Here are our Wildlife Control and Critter Removal Services:
I humanely remove all types of nuisance wildlife from homes and buildings. I service both residential and commercial accounts with wildlife control in Boca Raton.
We are based out of the Boca Raton FL area and service South East Florida. This is our service area (We will travel further for large jobs, such as commercial bat control work. If in doubt about our range, just give us a call!)